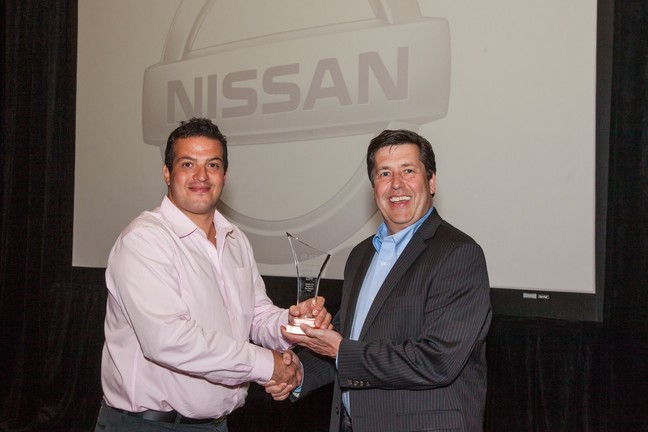 NASHVILLE, Tenn. – Today Nissan Motor Acceptance Corporation (NMAC), Nissan's financial services affiliate, presented its Top Volume Dealer of the Year award to Nissan of Garden City in New York during the company's dealer meeting in Phoenix.
"Nissan of Garden City is a great partner and takes full advantage of all the products and services NMAC has to offer," said Mark Kaczynski, president, NMAC. "These NMAC services resonate well with the customer and have allowed the dealer to grow and prosper over the years."
Nissan of Garden City received the award for booking the most retail contracts and leases with NMAC in calendar year 2014. This is the first time NMAC has presented the award and plans to make it an annual event.
"The financing of a vehicle is an important part of the new car purchase process for many customers and can often times make or break a deal," said Patrick Dibre, Dealer Principal, Nissan of Garden City. "That's why it's vital we work with a company like an NMAC that keeps the process simple and provides great service ensuring we book more contracts with our customers. It just makes good business sense."
NMAC is coming off one of its strongest years booking a record number of contracts in fiscal year 2014 that ended March 31.
About Nissan Motor Acceptance Corporation
Nissan Motor Acceptance Corporation, including its Infiniti Financial Services division, is the automotive financial services arm of Nissan North America. Established in 1981, NMAC's primary emphasis is to provide purchase and lease financing for the complete line of Nissan and Infiniti vehicles to consumers throughout the United States. NMAC also provides wholesale inventory, equipment, capital and mortgage loan financing to Nissan and Infiniti retailers.
About Nissan North America
In North America, Nissan's operations include automotive styling, engineering, consumer and corporate financing, sales and marketing, distribution and manufacturing. Nissan is dedicated to improving the environment under the Nissan Green Program and has been recognized as an ENERGY STAR® Partner of the Year in 2010, 2011, 2012, 2013 and 2014 by the U.S Environmental Protection Agency. More information on Nissan in North America and the complete line of Nissan and Infiniti vehicles can be found online at www.NissanUSA.com and www.InfinitiUSA.com, or visit the Americas media sites NissanNews.com and InfinitiNews.com.
About Nissan Motor Co.
Nissan Motor Co., Ltd., Japan's second-largest automotive company, is headquartered in Yokohama, Japan, and is part of the Renault-Nissan Alliance. Operating with more than 244,500 employees globally, Nissan sold almost 5.2 million vehicles and generated revenue of 10.5 trillion yen (USD 105 billion) in fiscal 2013. Nissan delivers a comprehensive range of more than 60 models under the Nissan, Infiniti and Datsun brands. In 2010, Nissan introduced the Nissan LEAF, and continues to lead in zero-emission mobility. The LEAF, the first mass-market, pure-electric vehicle launched globally, is now the best-selling EV in history with almost 50% share of the zero-emission vehicle segment.
For more information on our products, services and commitment to sustainable mobility, visit our website at http://www.nissan-global.com/EN/.