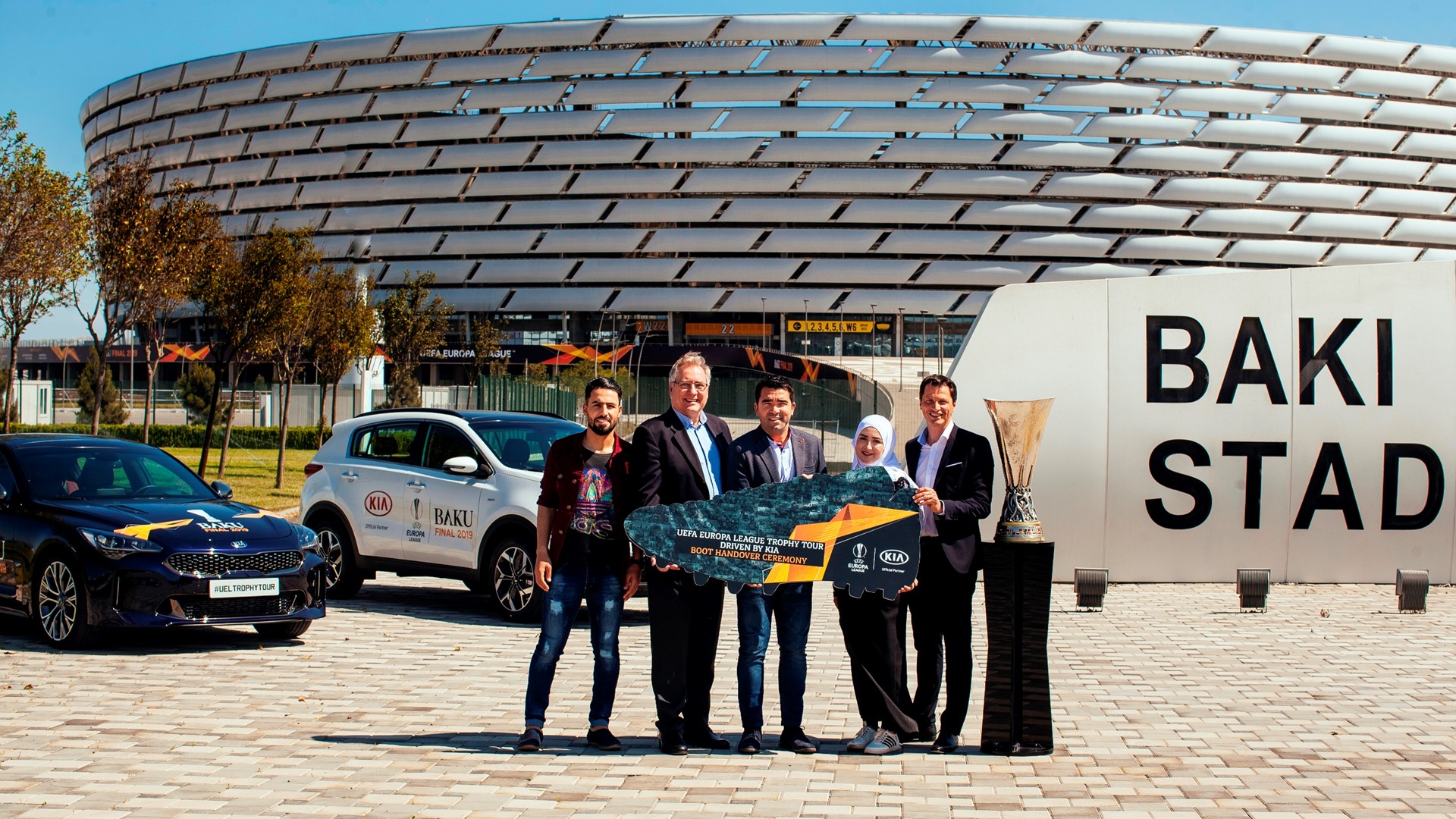 Kia Motors, UEFA Foundation for Children tour European cities to collect unwanted football boots to donate to a refugee camp in Jordan
"UEFA Europa League Trophy Tour Driven by Kia" highlights both organizations' commitment to universal well-being of children, channels football fans' rapport
Renowned international footballer Deco met with representatives from Jordan's Za'atari Refugee Camp on May 16 at Baku Olympic Stadium, and handed over hundreds of football boots. It was a charitable act coordinated by Kia Motors Corporation and the UEFA Foundation for Children to help refugee children play football, and to inspire and enliven the young hopefuls.
Some 700 pairs of boots, whose number will increase during the ongoing collection process, will be given to Syrian children at the Za'atari Refugee Camp in the coming weeks.
Throughout the knockout stages of this year's UEFA Europa League, Kia and the foundation visited cities across Europe to encourage football fans to donate their unwanted boots and trainers. Hundreds of boots were donated at Kia dealerships and on the tour, during which more than 145,000 fans saw up close the UEFA Europa League Trophy that was showcased at schools, grassroots clubs and city centers in Geneva, Seville, Berlin, London, Milan, Moscow and Paris.
"Everyone who has ever played the game, regardless of the level, remembers their first pair of football boots. In donating the boots, fans across Europe are not only giving people a chance to play under a better condition, but creating a lifelong memory for the recipients," said Deco, who formerly played for FC Porto, FC Barcelona and Chelsea FC. "To meet representatives from Za'atari and learn about the challenges faced by the young players has been very moving. For Kia and the UEFA Foundation for Children to provide fans the opportunity to support the refugees is extremely positive."
Throughout the campaign, the fans spent time with Trophy Tour ambassadors, including Lothar Matthäus, Andrés Palop, David Seaman, Eidur Gudjohnsen, Andrei Arshavin, Youri Djorkaeff and Filippo Inzaghi.
"The UEFA Foundation for Children has helped provide pitches for the refugees in Jordan, but until now the facilities had lacked football boots. Thanks to the generosity of football fans across Europe, the youngsters will now have the ability to play under a vastly improved condition throughout the year," said Guillaume Sabran, the UEFA Head of Sponsorship and Licensing. "On behalf of UEFA, I'd like to thank everyone who has supported the campaign as well as Kia for creating the platform for fans to make a real, tangible difference to those living under difficult circumstances, but who share the same passion for our beautiful game."
Yong-Won Cho, Kia Motors Senior Vice President and Chief Marketing Officer, said: "It's been an honor to help empower fans across Europe who have donated their football boots so generously. The campaign is an illustration of the power that football holds. It's inspiring to see the hundreds of football supporters who have joined our trophy tour to improve the lives of those less fortunate. On behalf of Kia Motors I would personally like to thank each and every one of them."
The UEFA Europa League Final between Chelsea FC and Arsenal FC will take place at the Baku Olympic Stadium in the Azerbaijani capital on May 29. As the official automotive partner of the UEFA Europa League, Kia Motors will supply 90 vehicles for official use at the championship.