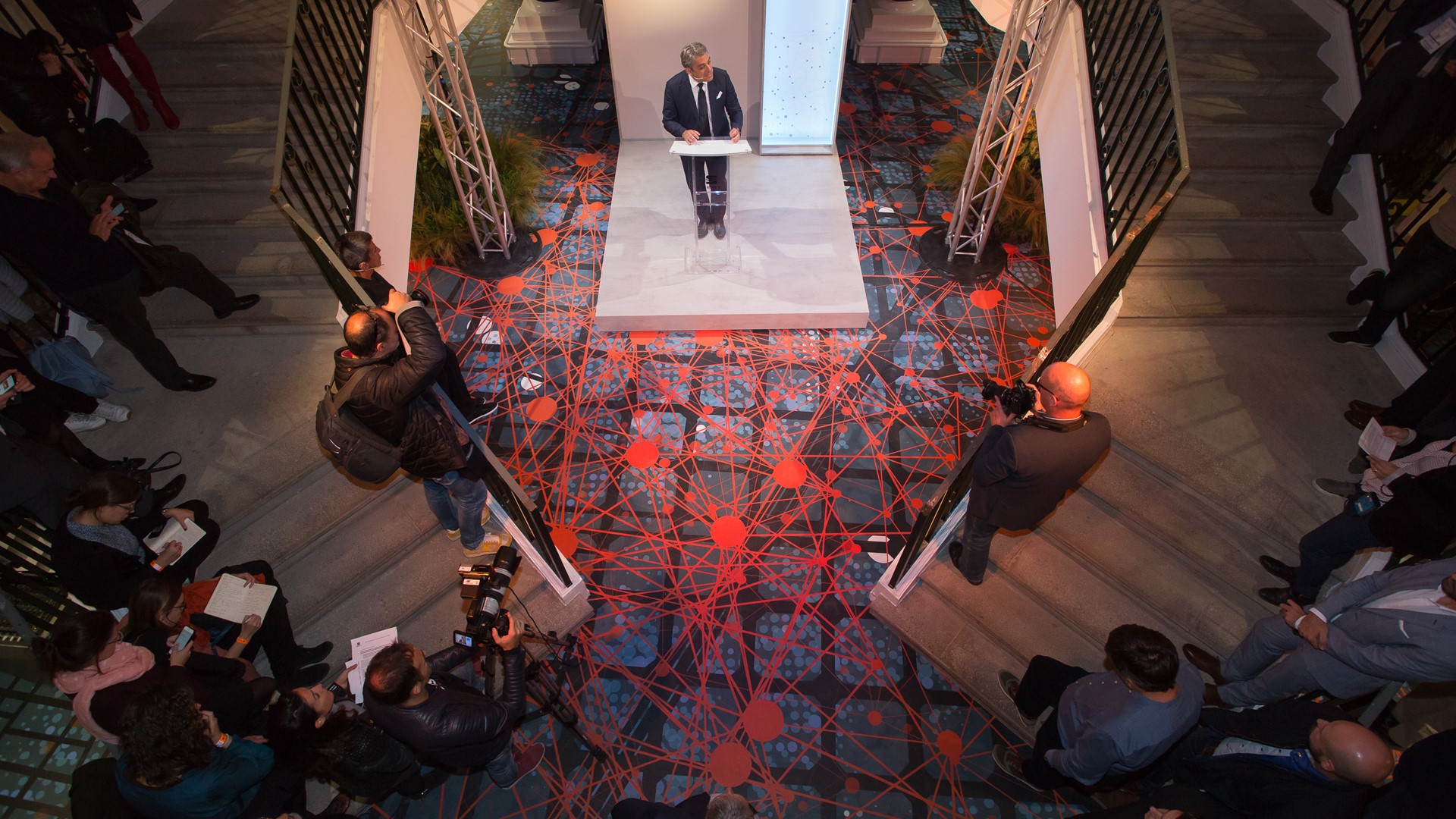 Official inauguration of SEAT's digital lab
SEAT's digital lab was officially opened yesterday with the presence of prominent figures in the technology sector
SEAT President Luca de Meo and Head of Lab Jose Nascimento give insights into future projects for improving the urban mobility of tomorrow
​Barcelona, 15/11/2017. SEAT Metropolis:Lab Barcelona, wholly owned by the company and integrated  in the Volkswagen Group's network of IT-Labs, was formally opened yesterday evening in the framework of the Smart City Expo World Congress 2017 being held these days in Barcelona. The inauguration was attended by several personalities of the technologysector who were invited  to the event organised by SEAT, including Miquel Martf, the CEO of Barcelona Tech City, the benchmark  hub of Europe's entrepreneurial ecosystem where Metropolis:Lab Barcelona is located.
The goal of this digital centre of excellence, which began operating  last April, is to analyse and find smart solutions  forthe challenges  facing mobility of tomorrow and contribute to SEAT's positioning as a leading  benchmark in connected car. In this sense, 
Luca de Meo,
who participated in the inauguration ceremony, underscored that "this lab relies on a combination of mobile technology and Big Data to optimise the relationship between the public, the smart city and mobility services. We aim to improve mobility and mal
Upcoming Metropolis:Lab projects
During the event, the initiatives being developed  by the team at the lab were presented for the first time. The one that is now a reality is the 'About it' app, which is intended  to improve mobility in Barcelona. Among other functions, it displays areas of the city where construction work is carried out that could affect traffic or black points with the highest concentration of traffic accidents in the city.
Two further major projects being developed  were also announced. jose Nascimento highlighted "a ride-sharing app aimed at easing public mobility with the creation of communities that share intraurban commutes". Furthermore, he also gave insights  into "the on demand bus project, geared to optimising the use of existing bus lines by offering flexible routes that adapt to real time demand". A pilot test of this initiative is already being implemented in Wolfsburg, Germany and will be adapted to Barcelona in a second phase.
SEAT and its commitment to Barcelona
The creation of this lab follows the agreement signed between SEAT and the Barcelona city council to promote innovation, sustainable mobility and attracting new talent to the city. At the same time, the company is invested in CARNET, the first great open research and innovation hub focussed on the automotive  sector and urban mobility in the city of Barcelona, with the collaboration of the Polytechnic University of Catalonia and Volkswagen Group Research.
In addition, last July the carmaker announced the location  of Casa SEAT in the heart of Barcelona, on the corner of Paseo de Gracia and Avenida Diagonal. It is a multidisciplinary facility aimed at connecting  with the city's cultural and economic pulse, with the firm intention of becoming the meeting  point of new trends and local and international talent. Casa SEAT's inauguration is scheduled  for late 2018.
File added to media cart.