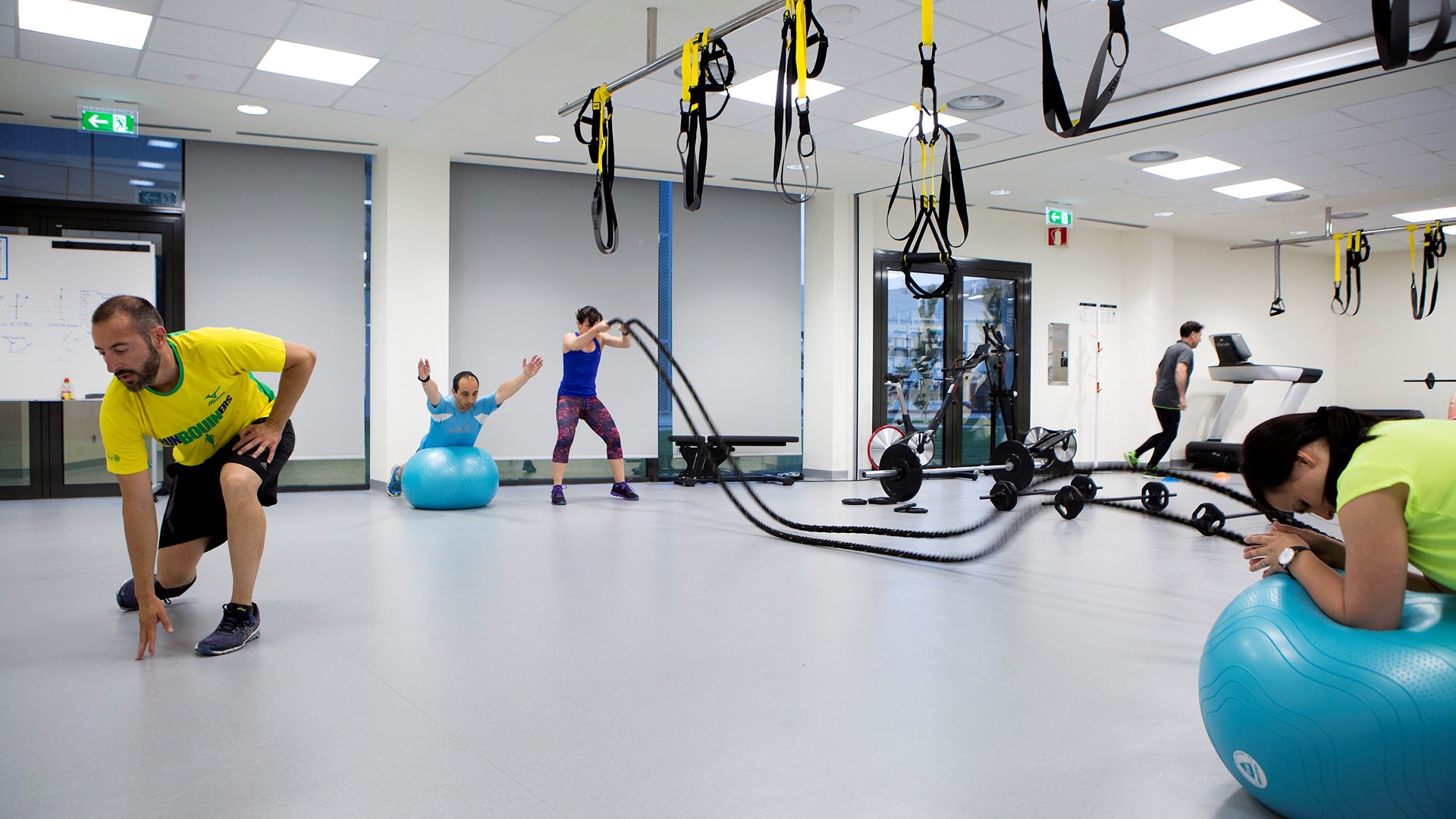 Health in the workplace
The medical services operate 24 hours a day, just like the SEAT factory, and attend 15,000 employees
The number of days lost due to work accidents has gone down by 48% thanks to prevention and improved medical services
CARS features a specific unit for women's health, key for the early detection of cancer
Martorell, 28/08/2018.- It's six in the morning and a new day is dawning in the SEAT Martorell factory. Stepping into its facilities is like walking into a city with an extension of 2.8 square kilometres, like the Principality of Monaco, for example. Roads, traffic signs, train stations, fire-fighters…And a medical service that operates 24 hours a day:
-Starting the day with a fitness class: It looks like a typical gym in any large city, but it's actually one of the spaces in the Health Care and Rehabilitation Centre (CARS). "Come on, let's go! Push-ups and on your feet!"  the personal trainer shouts to encourage a group of 10 employees to the beat of music. This group trains first thing in the morning, but the fitness sessions take place all day long from 6 am to 10 pm. CARSFIT is a physical fitness improvement programme especially designed for SEAT employees.
- 17,000 traumatology consultations a year: "Will I have to continue with the rehabilitation, doctor?" a patient asks Dr. Nacho Martínez, head of Orthopaedics at CARS, after he analyses an X-ray of his knee. This is one of the most in-demand specialities by the workers, who receive personalised treatment in the workplace without waiting lists. In just one year 1,400 X-rays were made.
-The length of medical leave due to work accidents decreases by 48%: Whether an employee suffers an injury at work or during their leisure time, the medical personnel diagnoses their condition and prescribes treatment, and in some cases includes rehabilitation. In the past year close to 27,000 physiotherapy sessions were carried out, which is an average of 84 per day. All this work, in addition to prevention, reduces diagnosis and patient recovery time.
-Dedicated medical unit for women: "Doctor, is everything alright?" a patient asks her gynaecologist while he analyses her latest ultrasound. Doctor Sostoa visits patients in a specific unit that offers a free annual gynaecological check-up. In one year, more than 3,400 ultrasounds were performed, close to 320 mammograms and 10 cases of early stage cancer were detected. 85% of the women attended at CARS had never had this kind of medical examination before. "In a company where 21% of the workforce is female, our obligation is also to protect women's health", says Dr. Patricia Such, the head of the Occupational Health and Safety unit at SEAT.
-20 cameras in a biomechanical lab: In one of the rooms at the centre, an employee mimics the movements he makes on the assembly line and 20 cameras record his gestures. This is the biomechanics lab, the only in-company facility of its kind in Spain. Not only is it used to evaluate the health of muscles and joints after an accident, but also to calculate the muscular effort required of certain jobs. This technology is combined with virtual reality, the same technique used to develop videogames or animation films, and helps design workstations that are more ergonomic.
-Referring physician: "I feel like the family physician of 15,000 people" says Dr. Batalla, head of the Medical Service at SEAT. SEAT has ten medical centres in operation in its different production sites and inside the workshops, as well as CARS, to attend the entire workforce. Close to 15,000 preventive medical treatments are carried out per year, and in case of emergencies, two ambulances are permanently on call 24/7, 365 days a year.