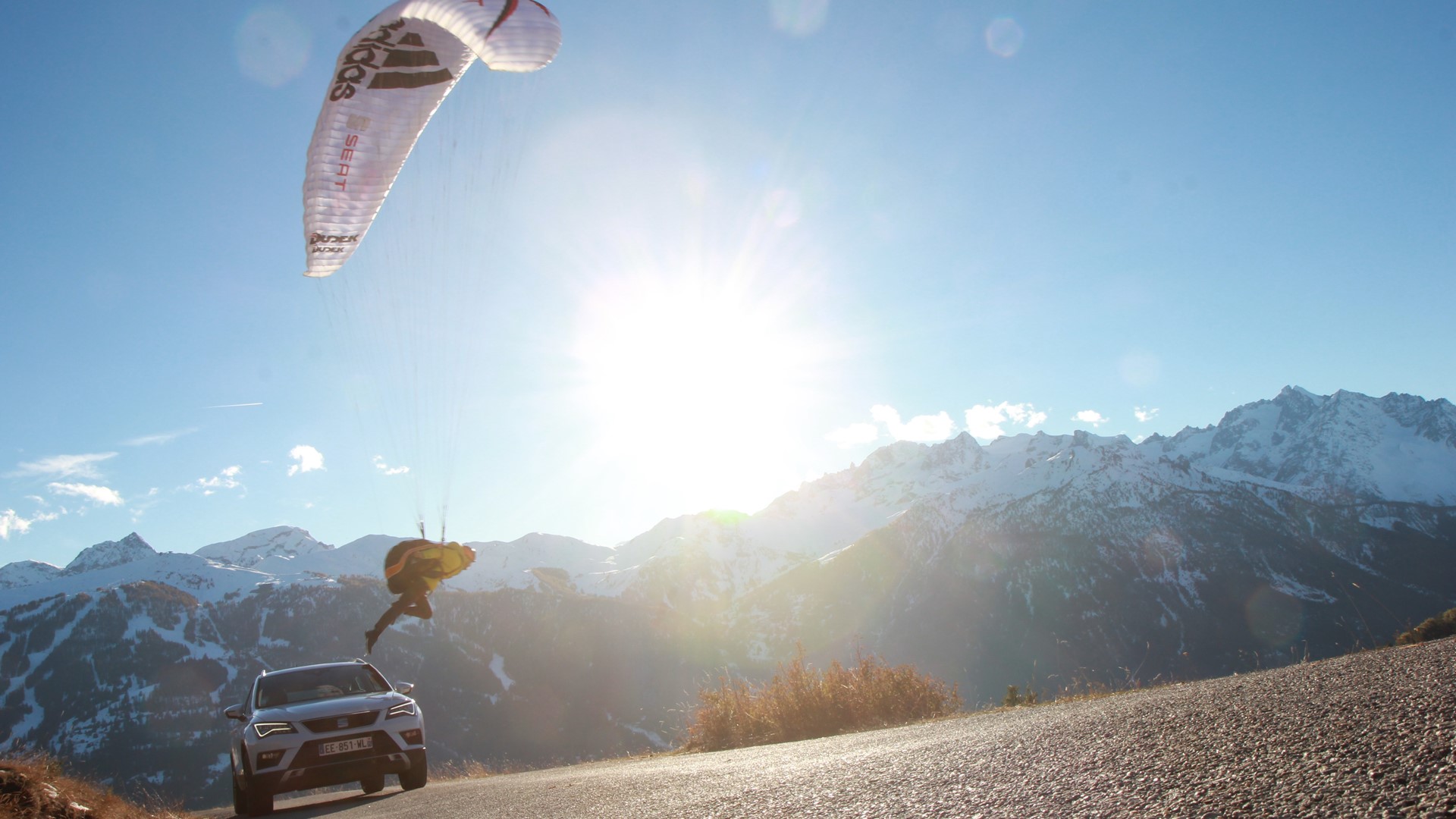 Martorell, 04/11/2016. – He has flown at an altitude of over 4,000 metres and has performed all kinds of aerial stunts, but what satisfies Jean-Baptiste Chandelier the most is being as close as possible to the ground when he's flying. This French paraglider specialises in what he calls touch, which is when he touches a surface with a hand or foot while flying, and it's what he most enjoys doing. Some of favourites are snow, sand, water or buildings anywhere in the world. His latest challenge was touching the roof of a SEAT Ateca while it was being driven on a road in the French Alps.
He sees the outline of a road in the middle of the mountains. "There's the car!" shouts Jean-Baptiste from up high. He gradually descends, mastering the air, his paraglider and gravity. Suddenly, he makes magic happen again when he skims over the roof of the car, touches it with his foot, and settles back into the air, congratulating himself with a "yuhuuu" for achieving the challenge.
Jean-Baptiste, who is a SEAT ambassador in France, has reached heights of more than 4,000 metres. Besides his native French skies, he has also soared over places in several countries, such as New Zealand, Brazil, Peru, Chile, Morocco, Namibia, Spain and Portugal. 

With over ten years' experience, he says he loves paragliding because it enables him "to see spectacular landscapes and discover the world from a different vantage point. The feeling of freedom is awesome. I feel like a modern day Icarus, almost like a human bird".

The apparent ease with which he handles the paraglider is, in fact, the closest thing to a bird flying in the sky. Or, as he prefers to say, "a superpower of the likes of Superman or Peter Pan".