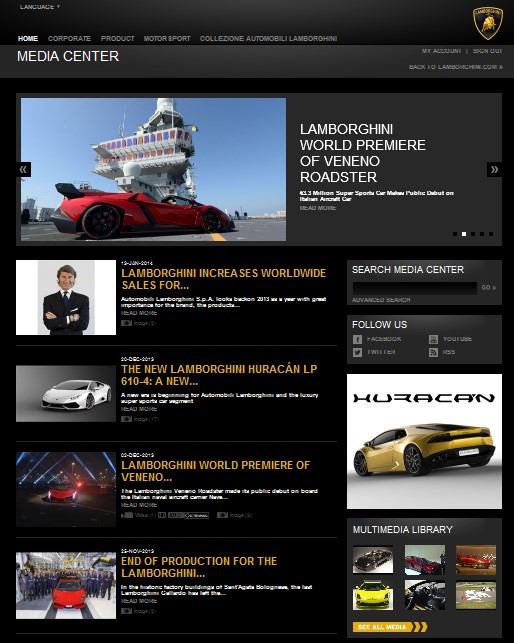 As of today, the new Automobili Lamborghini Media Website is online at
http://media.lamborghini.com
The main new features of the site, which has a new look and updated graphics, are its ease of access from any PC, smartphone or tablet; a new, simple and precise navigation structure, which allows all contents to be viewed with a single click; and a search function which allows searches to be refined with customized parameters.
Text, photos and videos can be viewed in real time, shared on the main social networks, or downloaded. The videos, specifically, are available in standard versions both in PAL and NTSC formats as well as WEB and HD versions. The interior of the site has also been reorganized – it is divided into intuitive sections with the possibility to search for multimedia content (photos and videos) across all of them by using the "Multimedia Library" function. There are four main sections, which are in turn divided into subsections:
CORPORATE: This section provides information on everything about Lamborghini – news, history, management biographies, sustainability projects and events.
PRODUCT: This section offers detailed information on every model produced by Lamborghini from 1963 to the present day, listed by current models, limited editions, concepts, and historic models.
SQUADRA CORSE: The main news and results from the Lamborghini Blancpain Super Trofeo single-brand racing championship, divided into the three Europe, Asia and North America series, as well as an overview of the GT3 class championships.
COLLEZIONE AUTOMOBILI LAMBORGHINI: This section provides all the latest news on the House ofthe Raging Bull's fashion and accessories line.
The Home Page also provides direct access to Automobili Lamborghini's official website, with amonthly average of 1.5 million visitors, and our social network profiles, in particular our Facebook page, followed by over 6.5 million fans, and Twitter profile, with around 400,000 followers. On the occasion of the Geneva Motor Show, a live streaming feed of the press conference and world premiere unveiling of the Lamborghini Huracán LP 610-4 will be available at 8 a.m. on March 4th, while the videos and photos will be available for download on the media website.
This website is reserved for media professionals, representing the next step in Lamborghini's digital strategy.