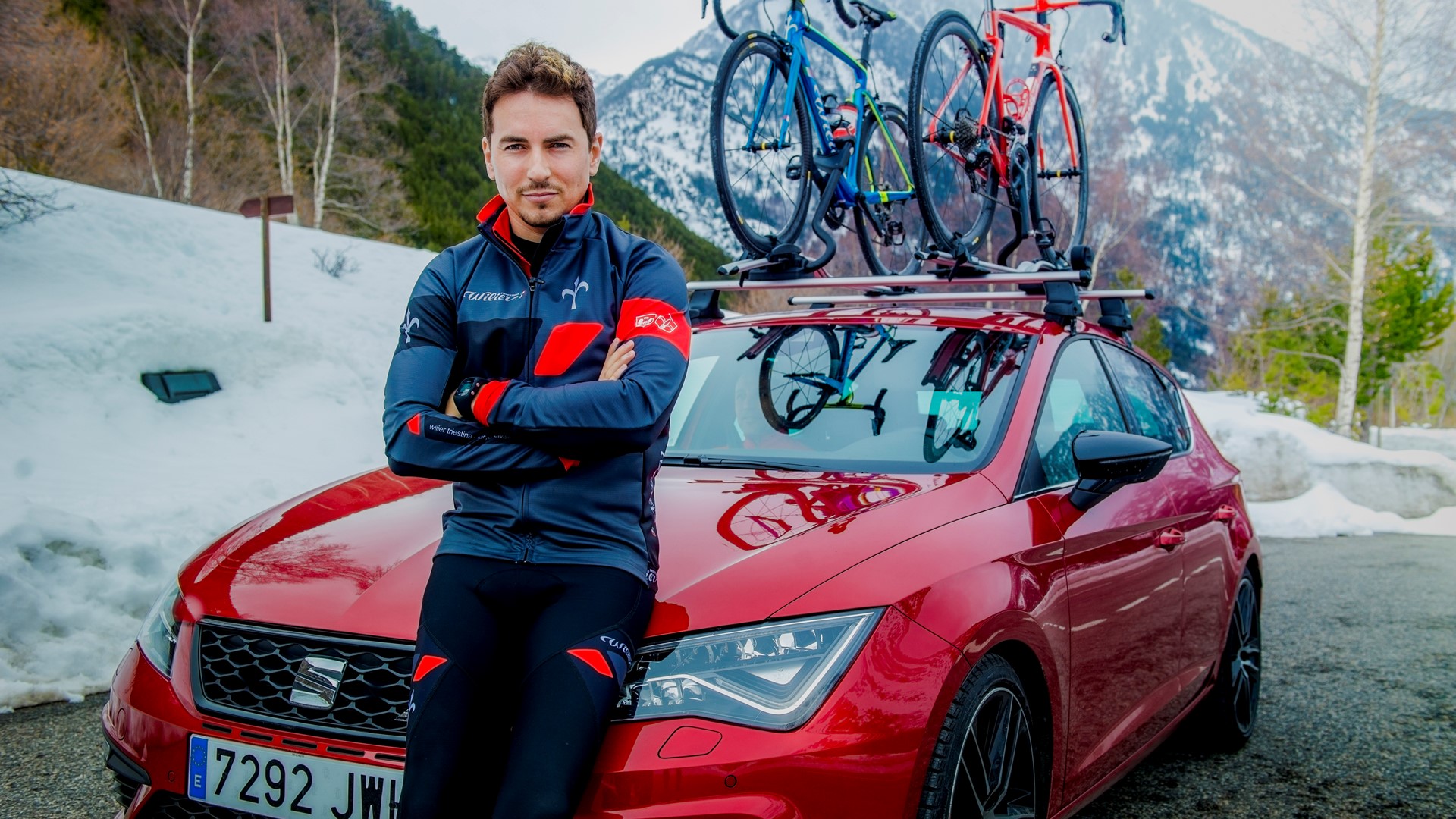 A day of training for top level competition
We accompany the three-time MotoGP world champion during one of his training sessions in preparation for the new season
The SEAT ambassador always goes training on a road bike with his SEAT Leon CUPRA as an escort car to minimise risks
The rider works out every day between five and seven hours to begin the championship in top shape
Martorell, 15/03/2018.– With just hours left before this year's season kicks off, three-time MotoGP world champion and SEAT ambassador Jorge Lorenzo is making a final sprint in his training workouts. His recipe for going into the competition in top shape includes cycling, the gym and his SEAT Leon CUPRA. Jorge cycles up the Ordino-Arcalís mountain pass in Andorra twice a week to get himself used to performing at 170 beats per minute, the same heart rate needed to compete in a Grand Prix event. We spent a day with the champion rider while training to discover what it takes to make it to the podium:
- Safety first: It's important to be physically prepared, but you also have to train safely. "When I train on my road bicycle, my Leon CUPRA always drives behind me as an escort car so that others can overtake us in the safest way possible. This is a way of minimising risks" says the rider.
- Maintain a heart rate of 170 bpm: Cycling up a mountain pass is one of the most strenuous exercises for Jorge. Twice a week, the rider cycles 20 kilometres and climbs 1,200 metres. "It's a very tough stretch", he admits. But it's "necessary to raise my heart rate to get my body used to the conditions that prevail while competing", he comments.
- His car, essential for Jorge: When he reaches the top of the mountain pass, Jorge loads his bike in the car and drives back down. The 4Drive all-wheel drive system on his Leon CUPRA helps him in his descent. "You have to do everything you can to extend your sporting life, and the car helps us prevent risks and unnecessary injuries", he tells us while driving.
- Will to improve:  Jorge works out between five and seven hours every day. "I take training and getting my body used to suffering very seriously", says the rider. I complement the cycling sessions with workouts in the gym, doing exercises that strengthen the muscles I use the most while racing the Ducati – inner thighs, triceps, pecs and lats.
- 8% body fat, the physique of an athlete: Eating the right food is an essential part of training. "It's important to be strong, but also to weigh as little as possible", he adds. His coach and nutritionist has created a diet for him with an abundance of salads, fish and rice dishes. Japanese food, one of Jorge's favourite cuisines, is allowed, but only by keeping his rice intake to 80 grammes. The effect of all this on Jorge is 8% body fat, similar to that of a track and field athlete.
- Always competing: "I like to beat my own times", he explains. Jorge believes that "not everybody is cut out for competing; the instinct has to come naturally". To be at the top you have to "improve every little detail" and not leave anything to chance. With its 300 hp output and all-wheel drive, the Leon CUPRA and the rider share common traits such as power and control. "It's incredible how technology has evolved and I'm extremely happy to be able to drive a car with these features all over the world", he concludes.
- Ready for the challenge: Jorge and his team are working on getting the Ducati to improve its cornering ability: "it's very powerful, accelerates very well and is physically very demanding" says the rider after the first tests of the season. "I'm sure that with another year of experience I'll find the way to win more races", he adds.