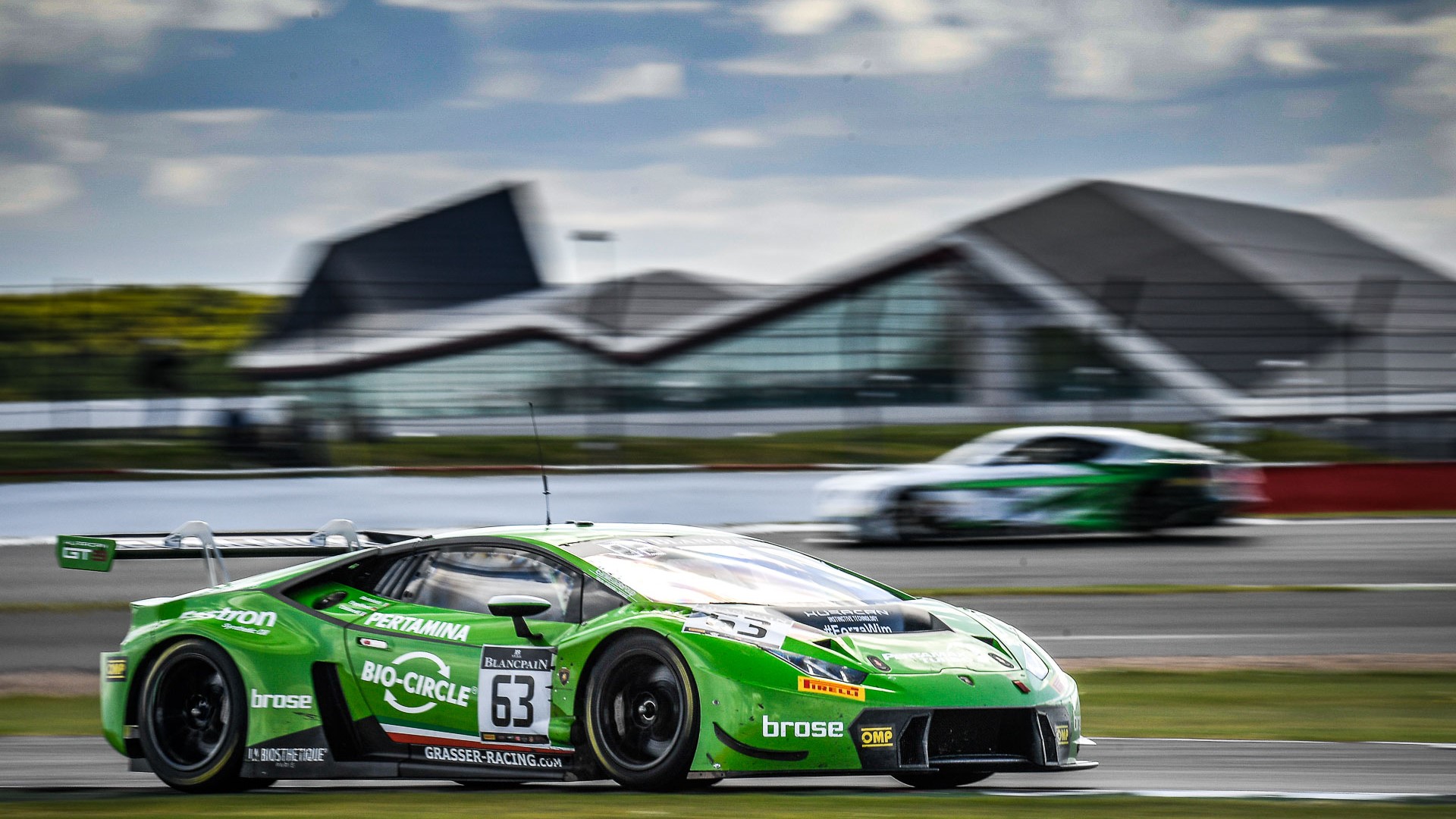 After Monza and Brands Hatch, Grasser Racing Team also dominate the 3H Endurance Cup race at Silverstone
Lamborghini Factory Drivers Bortolotti, Caldarelli and Engelhart lead the championship standings
Victory in Pro-Am class for the Barwell Motorsport Huracán GT3 with Amstutz, Kujala and Kodric
Sant'Agata Bolognese/Silverstone, May 14, 2017
Lamborghini continues to dominate the first part of the season of the prestigious Blancpain GT Series. After the victories scored at the end of April in Monza in the Endurance Cup and early this May at the Brands Hatch's Sprint Cup, the Huracán GT3 claimed its third consecutive victory.
Grasser Racing Team #63 car, shared by Lamborghini Factory Drivers Mirko Bortolotti, Andrea Caldarelli and Christian Engelhart, managed to get another important win with a "package" that once again worked well: race strategy, perfect teamwork and balance of the car. A mix that allowed the Huracán GT3 of the Austrian team to keep the lead ahead the rivals with a thrilling finish: after the three-hour race, the Lamborghini #63 car lead the HTP Motorsport Mercedes-AMG GT with a margin of just three tenths, with a nose-to-tail fight that lasted from green to checkered.
Starting from the first row, after the second best laptime in qualifying out of 55 cars on the grid, the Grasser Racing Team's Lamborghini took immediately the first position with Mirko Bortolotti overtaking the Mercedes-AMG GT of AKKA ASP team at the Copse. The italian Factory Driver extended his advantage to five seconds, but was frustrated by the safety car's release that has recaptured the group. The second stint saw the Italian Andrea Caldarelli, replacing Bortolotti, who, despite lapped cars, managed to keep the race's lead and deliver the Lamborghini in the hands of Christian Engelhart in first place for the last part of the race. Engelhart was the author of a hard driving stint as he had to defend the position from the attacks of the two Mercedes AMG-GTs of HTP Motorsport and Akka ASP teams which have never missed the Huracán GT3's tail. Eventually Engelhart, with an impressive defensive drive, took a well-deserved third victory of the season. Grasser Racing Team and the three Factory Drivers of Lamborghini Squadra Corse now top the Blancpain GT Series championship standings.
In the first 20 of the Silverstone race there are the remarkable progress of the other Lamborghini customers teams, such as Orange 1 Team Lazarus (Crestani / Yacaman / Pohler) and Ombra Racing (Beretta / Gattuso / Piccini), that finished respectively 14th and 15th.
P17 for the second Huracán GT3 of the Grasser Racing Team (Giammaria / Siedler / Perez Companc) and P19 for the Attempto Racing's Lamborghini with Baguette, Mapelli and Venturini.
Twentieth overall position, and first in the Pro-Am class, for the Huracán GT3 of the English Barwell Motorsport team, which triumphed with the crew formed by Adrian Amstutz and the Lamborghini GT3 Junior Drivers Patrik Kujala and Martin Kodric.
The next Blancpain GT Series events are scheduled at Zolder over the weekend of June 2-4 and at the Paul Ricard Circuit for the 1000 km Endurance on June 23-24, in the same weekend of the third round of the Lamborghini Super Trofeo Europe.