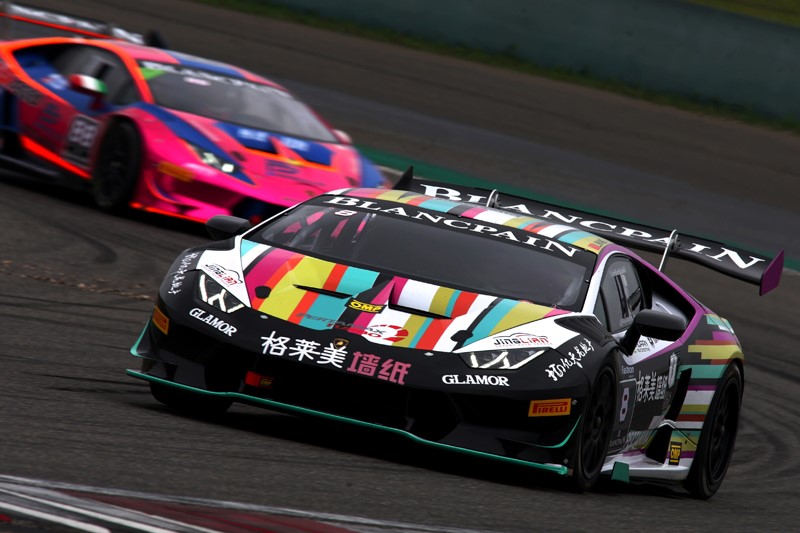 Shanghai, China. (May 22, 2016) – The first race day of the fifth year of the Lamborghini Blancpain Super Trofeo Asia series got underway today as drivers took to the grid for races 1 and 2 of the 2016 season. With the weather improving somewhat after yesterday's wet qualifying rounds, the teams were able to don their slicks and line up under overcast but dry conditions.
The series opening weekend marks the eighth time the Lamborghini Blancpain Super Trofeo series has visited Shanghai. With Lamborghini continuing their commitment to further develop motorsport in China, the competition welcomes six new drivers from China, many of them old friends and fellow gentlemen drivers who enjoy the thrill of weekend racing and the lifestyle offered at such events by Lamborghini and partners.
The Lamborghini Blancpain Super Trofeo represents the essence of gentlemanly sportsmanship, and is the perfect platform to express a love for motorsport and racing. This season sees the introduction of an all new driver class to the series, the Lamborghini Cup class, especially for gentlemen drivers new to the Lamborghini Squadra Corse format. While veterans of the AM and PRO AM class returned to do battle, it was the newcomers' infectious enthusiasm and energy on the podium which caught the eye of guests and friends in attendance.
With a good turnout of guests and spectators, race 1 commenced on schedule with Yudai Uchida of Japan along with teammate Jono Lester from New Zealand leading the grid, followed by Dilantha Malagamuwa and Armaan Ebrahim from Sri Lanka and India, with Chinese duo Li Chao and Zhang Da Sheng in third. By midway through the race Li and Zhang had climbed up to pole, while Malagamuwa and Ebrahim held onto second, with Uchida and Lester slipping to third. After qualifying in fourth, Japanese driver Toshiyuki Ochiai and teammate Afiq Yazid from Malaysia had slipped down to sixth, but made a remarkable return in the second half of the race, storming up to pole for the checkered flag. At the end of race 1, Li and Zhang finished in second with Malagamuwa and Ebrahim in third overall. Among the Lamborghini Cup drivers, Lin Yu and Zhang Wen He from China finished first, followed by Wang Liang and Yang Yuan in second and Chien Jui Yu and Tai Wei En in third.
Race2 got the green light at 16:55 local time, this time with Ochiai and Yazid leading the grid, followed by Zen Low of Malaysia and Max Wiser from Italy. Uchida and Lester started in third. By midway through the race Low and Wiser had pushed past Ochiai and Yazid into pole, while in a short-lived but spectacular display of driving skill Davide Rizzo racing out of Hong Kong, China made his way up to second place from last on the grid, forcing Ochiai and Yazid into third. Meanwhile, Uchida and Lester slipped down to ninth, with Li and Zhang in seventh. However, it was the experience of local drivers Li and Zhang in the second half of the race that gave them the advantage, with the duo managing to claw back the race from seventh to take pole, followed by Ochiai and Yazid in second and Uchida and Lester in third overall. In the Lamborghini Cup class, Wang Liang and Yang Yuan took pole, followed by Chien Jui Yu and Tai Wei En in second and Li Lin of China in third.
Drivers and teams now set their sights on Suzuka circuit in Japan for the second round of competition in June, a first for the series and another track added to the Lamborghini Blancpain Super Trofeo's global circuit roster. Don't miss the next chapter of this thrilling championship.