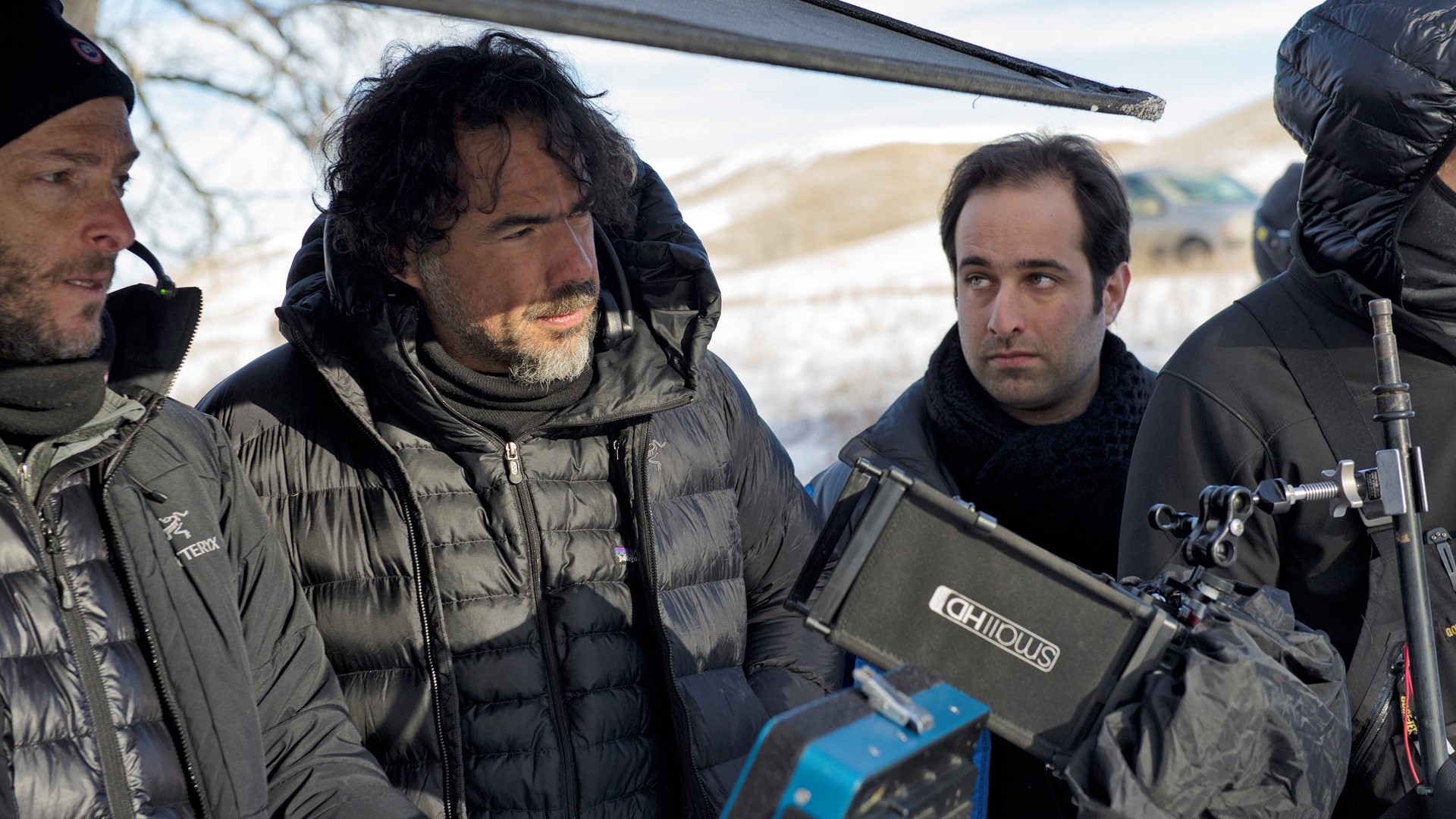 Tom Shoval's mentoring year was one filled with extraordinary experiences. After the young Israeli director was selected as a protégé by Alejandro González Iñárritu, he found himself catapulted into the world of Hollywood film-making. Iñárritu invited him to watch the post-production of his masterpiece, Birdman, followed by six weeks on the set of Iñárritu's new feature film, The Revenant, in the snow-bound Canadian Rockies. The young director was overwhelmed by his mentor's generosity in terms of the access he was given, which included a visit to the famous studios founded by George Lucas in San Francisco. Iñárritu insisted that he too was learning from the mentorship and that Shoval was a colleague as much as a pupil. "I have to say," said Iñárritu, "that the experience was not only great, it was pleasurable to experience the film [The Revenant] through the eyes of a younger film-maker whose hunger is so big, who has talent and sensitivity." By a happy coincidence, Shoval was able to be present with his mentor at the 2015 Oscars' ceremony – Birdman won four awards, three of them for Iñárritu personally, while the short film Aya, for which Shoval co-wrote the script, was nominated for Best Live Action Short. Shoval had the good fortune to share time with one of the greatest contemporary film directors at the peak of his career. But Shoval hopes that, even with the mentoring year over, his good fortune will continue – he would dearly like the continuing advice of Iñárritu as he works on his second feature, Shake Your Cares Away, a dark satire set in contemporary Israel.
Alejandro González Iñárritu
Mentor
The much-lauded film-maker Alejandro González Iñárritu, a three-time Oscar winner at the 2015 Academy Awards for his film Birdman, is celebrated for his compelling films that capture the interconnectedness of human beings and mine the complex realm of dramatic realism. His debut feature, Amores perros (Love's a Bitch, 2000), was followed by 21 Grams (2003); Babel (2006), for which he won Best Director at Cannes; and Biutiful (2010).
Tom Shoval
Protégé
Israeli film-maker and screenwriter Tom Shoval has won rave reviews for his sharp visual style and storytelling abilities. Influenced by his father who was passionate about film and, among other cinema adventures, took his 13-year-old son on a life-changing trip to Hollywood, Shoval became a devoted cinephile early on. He was a film major in high school, and served in the army's film unit. In 2007, he graduated from Jerusalem's Sam Spiegel Film & Television School where the founding-director, film-personality Renen Schorr, described him as "one of the most significant and committed talents I have ever seen". Shoval's award-winning, short films, including The Hungry Heart (2005), Shred of Hope (2007) and I will drink my tears (2011), have been screened at film festivals worldwide. His debut feature, Youth (2013), a social drama and thriller depicting the challenges of middle-class life in Israel, premiered at the Berlinale and was, among other awards, named Best Film at the Jerusalem Film Festival. Shoval co-wrote the script for the acclaimed short film Aya (2014), which was nominated for the 2015 Oscars' Best Live Action Short.
ALEJANDRO GONZÁLEZ IÑÁRRITU
" More than anything else, I was interested for him [Tom Shoval] to understand how things really work… He saw how I conceived and blocked the scenes. He attended production meetings. "
" All the people in every department loved Tom, everybody wanted to be close to him and he was generous. He was always respectful, there was real pleasure in being around someone with his education and knowledge. I enjoyed it times two and I would invite him again any time. "
TOM SHOVAL
On being on set with Iñárritu for the filming of The Revenant: " It was unbelievable for me. I thought I'd just be watching Alejandro, but it's been quite the opposite. He kept me involved, took me to all the meetings, standing by the monitor, watching the dailies, giving me answers to all my questions. I could see the evolution of the directing, especially in how you keep the mise en scène vital all the time. From the reading to rehearsals to the actual shooting, I was really with him. "
" [Iñárritu grasps] something very profound about cinema. He really understands the metaphysical aspects of time and space and movement in this medium and how to make all of this dance together. He is like a choreographer and a musician and a painter combined, and refers to space and time as his stage. He is also a very physical and sensual director, and you can feel in every scene he creates a sense of life and the romantic side of it. "