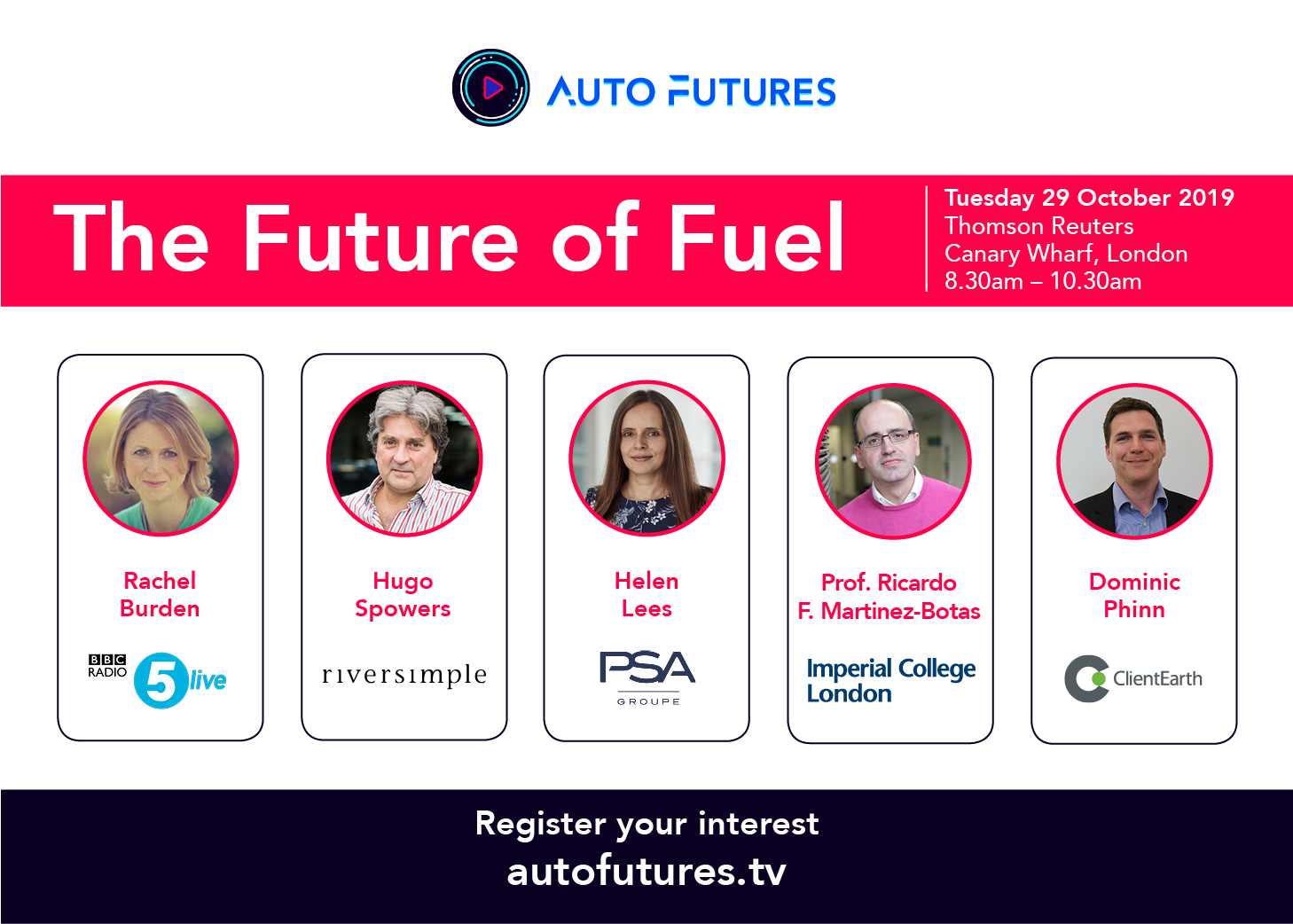 Auto Futures is offering journalists and industry professionals the opportunity to attend a free mobility event on Tuesday, 29 October 2019. Speakers from Groupe PSA, Imperial College London, Riversimple and ClientEarth will take part in Auto Futures' latest panel discussion, moderated by BBC Radio 5 Live's Rachel Burden.
The panellists will debate what fuels will be powering future mobility and why - and asking whether it really is the end of the road for the internal combustion engine.
Taking place at Thomson Reuters in Canary Wharf, London, journalists will be able to meet the panellists in a private Q&A session that will follow the main event, allowing media to gain more specific content tailored to their publication's needs.
Panellists: 
Helen Lees - Head of Electric Vehicles and Connected Services, Groupe PSA
Prof. Ricardo F. Martinez-Botas - Professor of Turbomachinery, Imperial College London
Hugo Spowers - Founder and Company Architect, Riversimple
Dominic Phinn - Business Lead, Clean Air, ClientEarth
Moderator:
Rachel Burden - BBC Radio 5 Live presenter, broadcaster, journalist
Topics for discussion include:
Are we at a tipping point for electric vehicles?
Are they the answer or are they only part of the equation? How clean are BEVs?
Four years on from Dieselgate, what's changed? How has the scandal impacted the auto industry?
What role will hydrogen and other alternative energies play? Are they safe and viable?
Do hybrids have a future?
Should all cars be banned from our cities?
Is it time to reset our relationship with cars completely? Will ownership be a thing of the past?
How will the growth of micro-mobility play out?
How do we change consumer and business behaviour? Is government legislation and regulation key to achieving this change?
What will urban mobility look like in 2030?
For further information or questions regarding the event and its content, please contact Claire Felstead.
Subscribe to Auto Futures updates for free Here
Auto Futures is an award-winning content hub dedicated to the future of mobility. Free to use, journalists can access downloadable copyright-free media assets from global mobility brands. We also deliver daily content, including breaking news, industry insight, interviews and events coverage, to an international audience of journalists, industry professionals and key decision makers.