The business community at this year's
World Economic Forum
(WEF) in Davos left with "optimism" for the future according to
Bob Moritz,
 Chairman of the PwC International Network.
In the final episode of the Davos Talks podcast series, Mr Moritz, joined host
Juliette Foster
to round up a fascinating and informative week at Davos 2020.
Mr Moritz identified climate change as the key focal point of the event this year: "For the first time in PwC's CEO survey, CEO's saw more opportunity in climate change, this being a way to differentiate yourself in terms of what your consumers think of you, your employees think of you etc. They understand the expectations and are jumping at the opportunity to do something about it both to benefit their own brand and service society at large."
PwC's Global Chairman also pointed out the potential reward business leaders might gain from upskilling their employees.
He described it as a responsibility for businesses to: "upscale their employees to be better prepared for the future both when they are in that organisation and when they go elsewhere."
In
S01E03
of PwC's Davos Talks podcast, Global Head of PwC People & Organisation Carol Stubbings also highlighted the importance of business leaders teaching the workforce new skills for the future. Listen to the full podcast or read our write up
here.
As a business leader himself, Mr Moritz was asked what changes he is making within his own business to meet these new challenges and opportunities.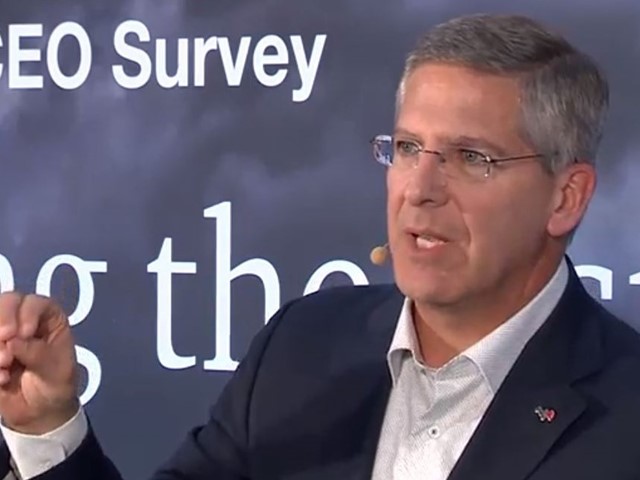 Bob Moritz during the CEO survey 2020 conducted by PwC
He said: "We've been implementing and upscaling initiative within PwC called '
New World New Skills
'. We've dedicated billions of dollars over the next few years not only to upscale our own employees to be better fit for their future, but to help business and government to do that as well."
Davos Talks
is a new podcast series looking at four themes that were high on the agenda at this year's World Economic Forum: climate change, technology, purpose and upskilling. The series was moderated by business journalist and presenter Juliette Foster.
To listen to the full episode, click here. Alternatively, you can watch and download the video by clicking the following
link.